Roodkapje is Rotterdam's local laboratory for
ART X LIVE X FOOD and everything in between
Delftseplein 39 • 3013 AA Rotterdam
Opening times
Monday: Closed
Tuesday: 12:00 - 23:00
Wednesday: 12:00 - 23:00
Thursday: 12:00 - 23:00
Friday: 12:00 - 23:00
Saturday: 12:00 - 23:00
Sunday: 12:00 - 22:00
*opening hours vary during events and exhibitions, check the full agenda for event-specific times
*click here for the Burgertrut restaurant's menu & opening hours
Roodkapje was founded in Rotterdam in 2000 by Eric den Hartigh. Over the years, Roodkapje has grown into a multidisciplinary platform for presentation and talent support for young artists, musicians, performers and programmers in the heart of Rotterdam. Roodkapje is multi-voiced, energetic and supportive and offers a space to explore, experiment and execute.
Roodkapje offers a unique multidisciplinary breeding ground for young talent in a dynamic, riotous and multi-voiced program. Our location is an:
The cultural program happens in every nook and cranny and from noon till the early morning hours. We believe a hamburger can be art and celebrate both the low- and the high brow. We travel beyond existing art forms and break through boundaries and binaries.
At Roodkapje you can move from mosh pit to hacking workshop to delicious (vegan) kapsalon. Our program is mostly produced in-house by the residents in the Hamburger Community. This nine-month residency houses five people every year who develop their ideas supported by Roodkapje's staff, visiting mentors and experts from the cultural field. The artists and event-programmers work together to create interdisciplinary happenings and publications. These ideas are presented directly to our audience, making the public program into an experimental test-site for unpredictable and unprecedented accidents. Next to the Hamburger Community, Roodkapje works closely together with co-producers and local partners that fit within our vision and who mentor the residents. These co-producers are a.o. FOEF, Kampung, Futura Resistenza, Hocus Bogus Publishing.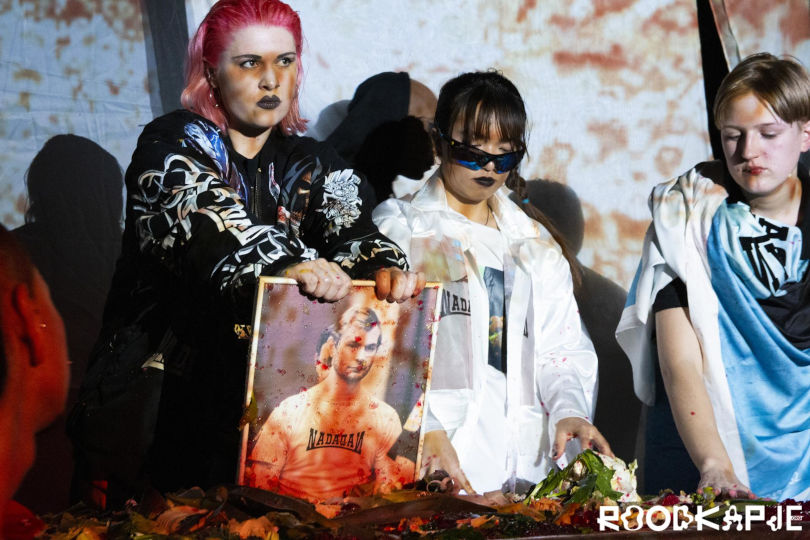 Roodkapje was founded in Rotterdam in 2000 by Eric den Hartigh. Starting out in Eric's hair salon on the Witte de Withstraat, Roodkapje soon grew out to be a subversive and sometimes nomadic organisation responsible for grand interdisciplinary events like Winterwolven, Reject Radicals Festival and Root Camp. During the hairsalon days the cultural program was largely paid for by the profit earned with cutting hair, this entrepreneurial spirit is what still characterizes us and what strives us to continue to create and make space for art, music and (vegan) food.